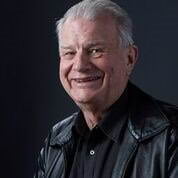 Rev. William David Crews was born in England in 1944 and educated in Australia. He studied Electrical
Engineering at the University of NSW under a scholarship provided by A.W.A. and then until 1971
worked with A.W.A in microelectronic research studying the properties of silicon. During this time he
built the first machine to grow ultra-pure single crystal silicon in Australia.
In late 1969 he first visited the Wayside Chapel in Sydney's red-light district of Kings Cross and
ultimately became involved in voluntary programs; visiting the elderly, sick and shut-ins of the
Woolloomooloo-Kings Cross area.
By 1971 he had decided to quit engineering and work full time at the Wayside Chapel. Bill was a
member of the team that created the first 24-hour Crisis Centre in Australia. By 1972 he was Director
of the Crisis Centre and directed all the social work programs of the Wayside Chapel until 1983. During
that time he established the first program in Australia to reunite adoptees and birth parents (Reunion
Register), and the first program to assist parents who were at risk of abusing their children (Child Abuse
Prevention Service). He also established the first modern youth refuge in Australia.
In 1973 he was made a member of the New South Wales Drug and Alcohol Authority and was
intimately involved in establishing drug rehabilitation, education, and prevention programs in Mt. Druitt
and throughout New South Wales.
In 1978 he and the Rev. Ted Noffs created the first Life Education Centre. Life Education Centres are
now all over Australia, Hong Kong, Thailand, New Zealand, England and America.
In 1983 he left the Wayside Chapel to study Theology at the Uniting Church's United Theological
College and graduated in 1986. In that same year, he was ordained as minister of the Ashfield Uniting
Church in Sydney's inner-west. At Ashfield, he created The Exodus Foundation to assist homeless and
abandoned youth and other people in need.