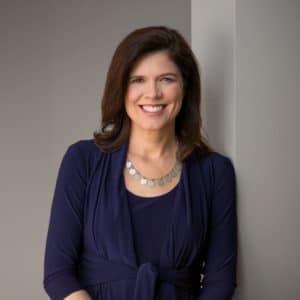 Leslie Crutchfield is an author, educator, social change expert, and Executive Director of Business for Impact at Georgetown University's McDonough School of Business. Business for Impact is founded on the belief is that companies can be a powerful force for good in the world and delivers world-class education, student experience, and cross-sector collaborations for people, planet, and profit.
Leslie's latest book is How Change Happens: Why Some Movements Succeed While Others Don't noted in The New York Review of Books as a blueprint for groups inspired to take action on today's major causes. Leslie also co-authored the bestselling Forces for Good: The Six Practices of High-Impact Nonprofits – recognized by The Economist on its Best Books of the Year list – and Do More than Give. She teaches corporate social responsibility in Georgetown's MBA program and nonprofit leadership on LinkedIn Learning.
Leslie previously was managing director at Ashoka, the global venture fund for social entrepreneurs, and co-founded a national nonprofit social enterprise in her 20s. Leslie has contributed to Fortune, Forbes, The Chronicle of Philanthropy, and Stanford Social Innovation Review, and has appeared on programs such as ABC, FOX, NPR, and PBS. She has volunteered on SEED Foundation and Kiva's boards and with Crossroads Africa.
Session description:
Movements matter—today as much as ever. Yet some changes take hold, while others don't. Take tobacco. Just a couple of decades ago, people smoked pretty much everywhere in the USA; now, the harmful habit's been dramatically reduced. How did so many abandon this behavior? Just as most Americans stopped smoking, they started stockpiling guns. Gun laws today are more lenient than ever, and now firearms are everywhere – legally owned, easily purchased, and openly carried in most states –despite the efforts of gun safety advocates. Meanwhile, LGBT advocates have made marriage equality the new law of the land. How did U.S. society get to a place in the 21st Century where we can celebrate gay weddings, ban smoking, and collect assault weapons? The answers are not what you might think. How Change Happens author Leslie Crutchfield reveals in this session the leadership approaches, campaign strategies, and ground-level tactics used in a range of modern change campaigns. Based on several years of research with a team of 21 staff, students, and faculty at Georgetown University's Business for Impact team (formerly GSEI), she unearthed six key factors that explain why winning movements triumph. In this session, she will explore how we can apply these practices to the movement to end opioid addiction and other substance abuse disorders.