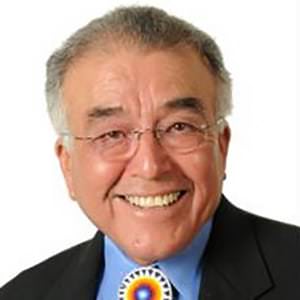 Don Coyhis is a member of the Mohican Nation. He currently lives in Colorado Springs, Colorado. He is the founder and Chairman of the Board of White Bison, Inc., an American Indian 501(c)3 nonprofit corporation dedicated to creating and sustaining a grassroots Wellbriety Movement that provides culturally based healing to the next seven generations of Indigenous People.
Over the past 30 years, Don has developed a series of culturally-based programs to address recovery and treatment, youth prevention and treatment, programs for healthy families, and healing from unresolved grief and traumatic loss due to intergenerational and historical trauma. These programs are designed help with all facets of family healing and have been implemented throughout the U.S. and Canada.
By 2002, White Bison, Inc. had published eight books including the Red Road to Wellbriety: In the Native American Way, a book for youth entitled Understanding the Purpose of Life: 12 Teachings for Native Youth written by Don Coyhis. These teachings are traditionally-based and spiritually-oriented, and are one of the many recovery support resources developed for the Wellbriety Movement.
In addition to serving on numerous Government advisory boards and agencies, Don has received national recognition such as The William White Lifetime Achievement Award from Faces and Voices of Recovery, The Purpose Prize Award for creating social change movements, the Legacy Award through CCAPP, and the Ackerman-Black Award through NACoA.
Through the leadership of White Bison, the Wellbriety Movement has taken a prominent role in the recovery of many Native Americans and their communities. All 28 programs, trainings, and resources developed by White Bison include the healing from alcohol and substance use, and Intergenerational Trauma as a result of the Government Boarding Schools. The 4 Directions programs are culturally based areas guided by the Teachings of the Native American Elders and the principles, Laws and Values of our Traditional Cultures. Thousands of Native people are sober as a result of adding the Culture to current methodologies of recovery.