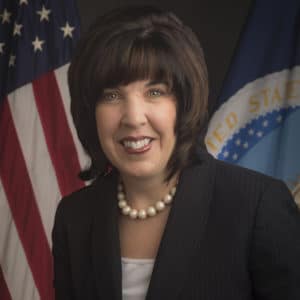 Anne Hazlett is a Senior Advisor for Rural Affairs at the White House Office of National Drug Control Policy (ONDCP) where she is working across the federal government to equip rural leaders with tools to address drug addiction in rural America. Before joining the team at ONDCP, Anne served as the Assistant to the Secretary for Rural Development at the United States Department of Agriculture. In this leadership role, she developed and led the Department's response to the opioid crisis, including creating greater access to behavioral health care in rural communities.
In addition to her service at the Department of Agriculture, Anne has worked on Capitol Hill as legal counsel for the Agriculture Committees in both the U.S. House and Senate. She has also served in several state leadership roles including Director of Agriculture and Chief of Staff to the Indiana Lt. Governor.
Anne is an Indiana native and a graduate of Kansas State University.